Mark's Tire - Brimley, Michigan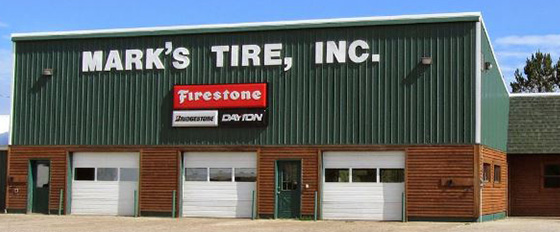 Mark's Tire is located in Brimley, MI and has been family owned and operated since 1990. They employ 10 highly trained technicians with over 90+ years of experience, and uses the latest in tire installation technology. They are a leader in offering wheels and name brand tires such as Bridgestone, Firestone, Goodyear, Kelly, Falken, Continental, General, Carlisle, and Mastercraft. You will find they also provide services like tire installations, road service, field service (Ag tires), customer wheels, trailer wheels, tractor wheels, wholesale tires, and TPMS installation and relearn.

In addition to growing their business, Mark's Tire understands the importance in supporting the community and everyone who lives in it - especially the young people. "We want to ensure the youth of today has a bright tomorrow" says owner, Mark. They participate in supporting the Brimley School's football program, Brimley Police and Fire Department, St. Francis Xavier Church, First Congregational Church, and Brimley Baptist Church.

Mark's Tire has been a Big 3 Tire program dealer since October of 2010. They like belonging to a group of like-minded companies and appreciate how being on the program has given them access to exclusive rebates and moving more tires by growing the lines of tires they sell.

Mark would describe his business environment as fast-paced and attributes his success to hard work and dedication. It's Mark's name on the building and reputation on the line, and the community knows them for being honest, reliable, fast, and offering friendly service. What he loves most about his loyal customers is the amount of trust they put in them; "...typically they simply throw us the keys and say "it needs tires, call me when it's done".